Bearing chrome steel VS stainless steel materials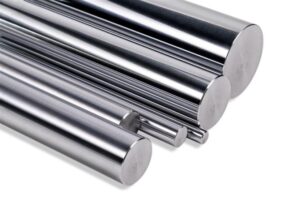 When looking at the advantages of chromium steel and stainless steel as bearing materials, it was found that they not only have an anti-rust effect. And chrome steel is the most common bearing material. It is harder than stainless steel, so it can last longer. However, its performance is not good at higher temperatures.
At a high temperature of 120°C, the bearing undergoes huge deformation and the load is reduced. It can withstand a high temperature of 150°C, but an instantaneous temperature of 150°C or higher will reduce the service life of the bearing. Heat treatment can make the bearing withstand a high temperature of 170 ℃.
The most common stainless steel 440 is used for bearings. It is hard enough and has a strong load capacity (20% lower than brass steel), but it can resist rust and can withstand instantaneous high temperatures of 250°C and continuous high temperatures of 300°C. We often mistakenly believe that all stainless steels are non-magnetic. 440 stainless steel is magnetic. It is not completely rust-proof, but is affected by salt, acid and alkali.
316 grade has good anti-rust performance, non-magnetic, but softer, so the load is smaller. Because it is not strong, the 316 bearing is inaccurate and feels rough.