Classification Of Bearings
Bearings are divided into two categories: sliding bearings and rolling bearings
Sliding bearing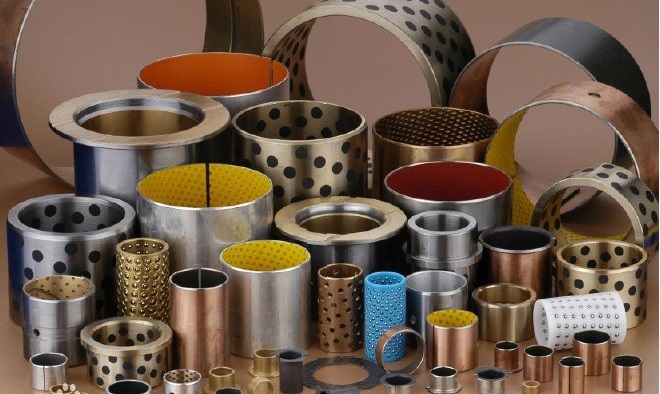 Sliding bearings, bearings that work under sliding friction. The sliding bearing works smoothly, reliably and without noise. Under liquid lubrication conditions, the sliding surface is separated by lubricating oil without direct contact, and friction loss and surface wear can be greatly reduced. The oil film also has a certain vibration absorption capacity. But the starting frictional resistance is relatively large. The part of the shaft that is supported by the bearing is called the journal, and the part that matches the journal is called the bearing bush. In order to improve the friction properties of the bearing pad surface, the anti-friction material layer cast on the inner surface is called the bearing liner. The materials of bearing bushes and bearing linings are collectively referred to as sliding bearing materials. Sliding bearing applications are generally under low-speed and heavy-duty conditions, or operating parts that are difficult to maintain and fill with lubricating oil.
There are many types of sliding bearings.
1. According to the direction that can bear the load, it can be divided into two types: radial (centripetal) sliding bearings and thrust (axial) sliding bearings.
2. According to the type of lubricant, it can be divided into 7 categories: oil lubricated bearings, grease lubricated bearings, water lubricated bearings, gas bearings, solid lubricated bearings, magnetic fluid bearings and electromagnetic bearings.
3. According to the thickness of the lubricating film, it can be divided into two types: thin-film lubricated bearings and thick-film lubricated bearings.
4. According to the bearing material, it can be divided into bronze bearings, cast iron bearings, plastic bearings, gem bearings, powder metallurgy bearings, self-lubricating bearings and oil-impregnated bearings.
5. According to the bearing structure, it can be divided into round bearing, elliptical bearing, three-oil-blade bearing, stepped surface bearing, tilting shoe bearing and foil bearing, etc.
Rolling bearing
1.Deep groove ball bearings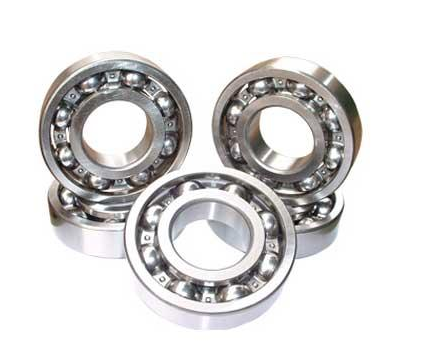 Deep groove ball bearings are simple in structure and easy to use. They have the largest production batch and the widest application range. It is mainly used to bear radial load, but also can bear certain axial load. When the radial clearance of the bearing is enlarged, it has the function of angular contact bearing and can bear larger axial load. Used in automobiles, tractors, machine tools, motors, water pumps, agricultural machinery, textile machinery, etc.
2. Cylindrical roller bearings
The rollers of cylindrical roller bearings are usually guided by the two ribs of a bearing ring. The cage, the roller and the guide ring form an assembly, which can be separated from the other bearing ring and is a separable bearing. This kind of bearing is more convenient to install and disassemble, especially when the inner and outer ring and the shaft and the shell are required to be interference fit. This type of bearing is generally only used to bear radial load. Only single row bearings with ribs on the inner and outer rings can bear small steady axial loads or large intermittent axial loads. Mainly used for large motors, machine tool spindles, axle boxes, diesel crankshafts and automobiles, etc.
3. Self-aligning ball bearings
The self-aligning ball bearing has two rows of steel balls, the inner ring has two raceways, and the outer ring raceway is an inner spherical surface, which has the performance of self-aligning. It can automatically compensate for the coaxiality error caused by the bending of the shaft and the deformation of the housing, and it is suitable for parts where strict coaxiality cannot be guaranteed in the support seat hole. The middle bearing mainly bears radial load. While bearing radial load, it can also bear a small amount of axial load. It is usually not used for bearing pure axial load. For example, bearing pure axial load, only one row of steel balls is stressed. It is mainly used in agricultural machinery such as combine harvesters, blowers, paper machines, textile machinery, woodworking machinery, traveling wheels and drive shafts of bridge cranes.
4. Spherical roller bearings
Spherical roller bearings have two rows of rollers, which are mainly used to bear radial loads and can also bear axial loads in any direction. This kind of bearing has high radial load capacity, especially suitable for working under heavy load or vibration load, but cannot bear pure axial load; it has good centering performance and can compensate the same bearing error. Main applications: papermaking machinery, reduction gears, railway vehicle axles, rolling mill gearbox seats, crushers, various industrial reducers, etc.
5. Needle roller bearings
Needle roller bearings are equipped with thin and long rollers (the length of the roller is 3-10 times the diameter, and the diameter is generally not greater than 5mm), so the radial structure is compact, and its inner diameter and load capacity are the same as other types of bearings. The smallest diameter, especially suitable for supporting structures with limited radial installation dimensions. According to different applications, bearings without inner ring or needle roller and cage components can be selected. At this time, the journal surface and shell hole surface matching the bearing are directly used as the inner and outer rolling surfaces of the bearing, in order to maintain the load capacity and running performance Same as the bearing with ring, the hardness of the surface of the shaft or housing hole raceway. The machining accuracy and surface and surface quality should be similar to the raceway of the bearing ring. This kind of bearing can only bear radial load. For example: universal joint shafts, hydraulic pumps, sheet rolling mills, rock drills, machine tool gearboxes, automobile and tractor gearboxes, etc.
6. Angular contact ball bearings
Angular contact ball bearings have a high limit speed and can bear both longitudinal load and axial load, or pure axial load. The axial load capacity is determined by the contact angle and increases with the increase of the contact angle. Mostly used: oil pumps, air compressors, various transmissions, fuel injection pumps, printing machinery
7. Tapered roller bearings
Tapered roller bearings are mainly suitable for bearing combined radial and axial loads based on radial loads, while large cone angle tapered roller bearings can be used for bearing combined radial and axial loads based on axial loads. This type of bearing is a separable bearing, and its inner ring (including tapered rollers and cage) and outer ring can be installed separately. In the process of installation and use, the radial and axial clearance of the bearing can be adjusted. It can also be pre-interference installed for automobile rear axle hubs, large-scale machine tool spindles, high-power reducers, axle bearing boxes, and rollers of conveying devices.